Stainless Steel Full Dome Anti-Ligature Mirror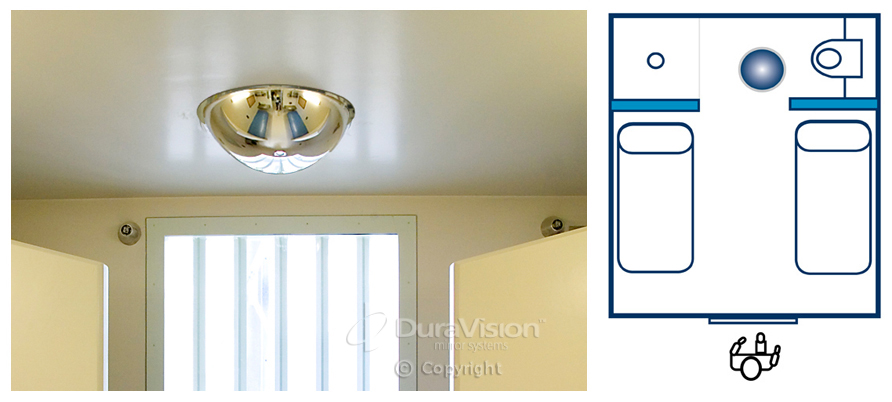 Stainless Steel Full Dome Observation Mirror
The DuraVision™ Stainless Steel Full Dome mirror is manufactured from highly polished mirror grade Stainless Steel. The frames and hole design have been developed to meet the stringent requirements of the UK Home Office and the London Metropolitan Police, making this mirror strong, effective and virtually ligature free.
FEATURES and BENEFITS
Mirror quality 1.2mm 304 Stainless Steel face gives a quality reflection on an unbreakable surface.
The shape or curve is designed to maximise the viewing area which will provide added safety.
7mm (9/32") Counter-bore and Pressed Counter-bore holes designed to take security head fasteners.
Available with or without a frame, due to the unique hole design, provides flexibility in low risk areas and cost savings as a result.
The mirror can be locked into the unique powder coated steel frame which ensures a virtually ligature free mirror and reduces the risk of the mirror being tampered with.
Virtually a maintenance free, long lasting, unbreakable surveillance system.
Part Number
Description
16528HD
500mm (20") Stainless Steel Full Dome with Steel Frame and 6 x Counter-bore holes.
16528C

500mm (20") Stainless Steel Full Dome with 6 x Pressed Counter-bore holes in the mirror face.
(Does Not Include Powder Coated Steel Frame)

Powder coated frame color: Grey
View this page as a PDF file to download, save and print.