Anti-Ligature Observation Mirrors
These unbreakable anti-ligature mirrors were designed in conjunction with prison architects and correctional facilities from several countries. These unbreakable observation mirrors or prison cell security mirrors improve officer and staff safety as well as inmate safety. These institution mirrors are easily installed by prison contractors and being an unbreakable anti-ligature mirror, have a long service life.
Contact Us direct for further information or for the nearest distributor in your country.
Highest quality materials, these unbreakable mirrors are available in a variety of styles and sizes using either Polycarbonate or Stainless Steel mirror face.
Having been designed in conjunction with prison architects and approved by the UK Home Office London (England), Metropolitan Police London (England), Australian Prison Service, The New Zealand Department of Corrections and a number of State and Federal Institutions in the USA.
The DuraVision™ Corrections Range of unbreakable convex mirrors are installed in numerous Corrections and Health Institutions world-wide where they are the mirror of choice in high risk areas.
To provide a higher level of safety to officers, staff and inmates, these robust mirrors are essential.
WATCH: The Polycarbonate Full Dome endures various tests, including a Baseball Bat.
WATCH: Polycarbonate Full Domes take the weight of a 2.6 ton Highlander truck.
Anti-Ligature Frame and Mirror Design
DuraVision™ Anti-Ligature Observation Mirrors are manufactured from premium quality materials and have unique design features. The Counter-bore Holes in the powder coated steel frames are recessed and the Counter-bore Holes in the Stainless Steel Dome are pressed into the edge of the mirror, making this range virtually ligature free and tamper proof.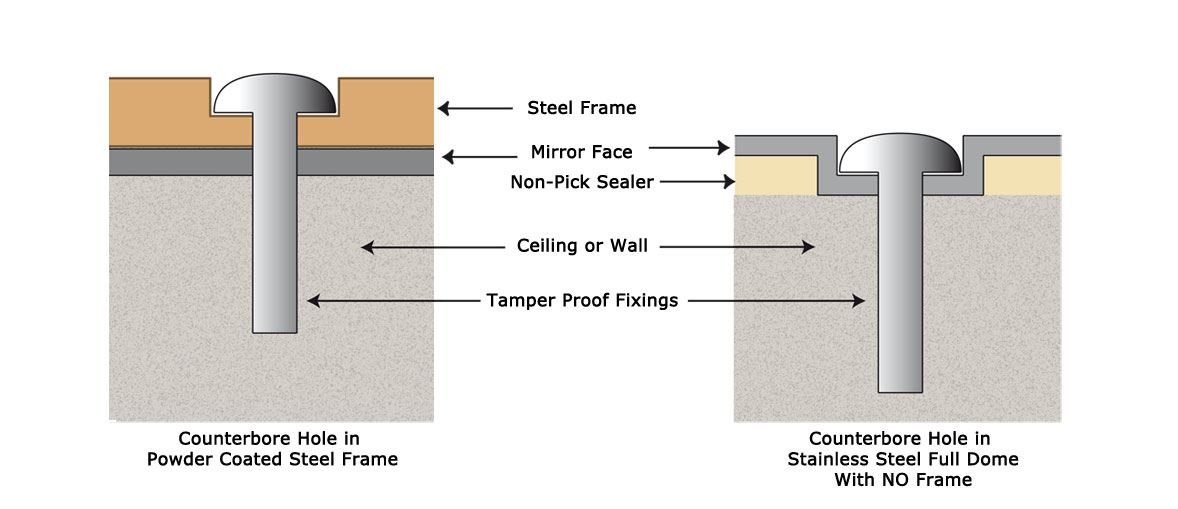 View this page as a PDF file to download, save and print.