Torx Head Security Screws

Torx Head Security Screws are used in US and Dutch prisons as an alternative to Rawl Spikes. Using Torx Head Security Screws, mirrors can be removed for remodelling of cells using a security bit.
These 6.5mm (1/4") screws are designed to self tap into concrete after a pre drilled hole of 4.8mm (3/16") diameter has been created. The unique DuraVision™ engineered steel frame has counter-bore holes so that the head of the screw recesses into the frame virtually eliminating any ligature risks.
Torx Screws and security bits are available from DuraVision™ and their distributors.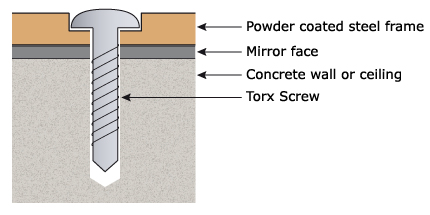 INSTALLATION:
It is recommended to use a 4.76mm (3/16") Straight Shank Tanged Bit to drill the hole. The hole must be at least 50mm (2") overall depth and free of any debris. By using the #27, 6.35mm (1/4") Hex Bit, the special Hi-Lo thread literally taps into masonry materials. The high sharp thread with its notched cutting edge, cuts deeply and easily. The alternating low thread provides stability for fast, accurate driving. Torx head security masonry screws are the optimal tamper proof fastening solution for use in concrete, brick, or hollow block.
| | |
| --- | --- |
| Part Number | Description |
| 21174 | 6.5 x 45mm (1/4 x 1 3/4") Button Torx Security Head Screw Zinc Plated |
View this page as a PDF file to download, save and print.