Rawl Spike Concrete Anchor

Rawl Spikes can reduce the installation time when a Prison Cell Observation Mirror is being fixed to concrete or block walls and ceilings. Since the anchor is pre-expanded, there is no secondary tightening operation required.
The DuraVision™ designed punch for inserting spikes can significantly reduce the risk of damaging the mirror face during installation.
As shown above, the unique DuraVision™ engineered steel frame has counter-bore holes which enables the Rawl Spike to sit recessed into the frame, thereby virtually eliminating any ligature risk.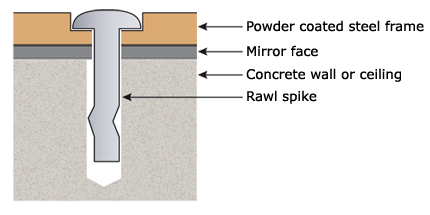 INSTALLATION:
Drill a hole into the base material to a depth of at least 60mm. The tolerances of the drill bit used should meet the requirements of ISO/DIN Standard 8035. Blow the hole clean of dust and other material. Drive the Spike through the appropriate mirror face hole (and frame when used) ensuring the head is sitting firmly against the mirror or frame and recessed as shown in the diagram.
NOTE: Care should be taken not to overdrive the Spike which may cause damage to the powder coated surface of the frame. Finish off by applying (optional) a bead of non-pick sealer around the mirror or frame and the wall to prevent concealment of small objects (eg sharp blades, contraband etc).
| | |
| --- | --- |
| Part Number | Description |
| 21173 | 6.5 x 50mm (1/4 x 2") Stainless Steel Rawl Spike |
| 21205 | DuraVision™ Rawl Spike Punch |
View this page as a PDF file to download, save and print.